Carina Horn hurtled to a national 100m record time of 11.03 seconds at Tuks on Thursday to get the South African Championships off to an explosive start.
The record came in the 100m semi-finals and saw her improving on South Africa's former 'First Lady of Speed' Evette de Klerk's almost 29-year-old record by 0.03sec.
De Klerk said that after 28 years, it was high time that her record went. 'To be honest, I'm a bit nostalgic knowing that my record is gone, but then again, I didn't expect it to be part of the statistics for so long. It was getting to be worrisome. Athletics records are there to be broken as it means the sport is healthy. I'm glad it was Carina who got the record because I understand she has put in long, hard hours to be able to do so.
'From personal experience, I can vouch how difficult it is in sprints, especially the 100m, to shave off those hundredths of seconds. It took me a long time from running 11.14 to be able to run a time of 11.06 eventually.'
There is indeed truth in what De Klerk is saying. Horn equalled De Klerk's record in 2015, and it took her another three years to improve by just 0.03.
However, the South African 200m record of 22.06, which De Klerk set on 8 April 1989, still stands.
'Don't get me wrong as I don't want to sound arrogant, but I think it will be a while before anyone comes close to improving on the 200m record. Our local sprinters are still battling just to break 23 seconds,' says De Klerk.
'I think one of the problems is that we have currently got individuals in every event trying to lift the standard of racing. The day I ran 22.06 in Pietersburg [now Polokwane], there were five of us dipping under 23 seconds, including Myrtle Bothma.
'In the 100m, there was never such a thing as an easy race as I was pushed by the likes of Elinda Vorster, Marcel Winkler, Mari-Lise Coetzer and others. If you did not give it your all every time you raced, there was a realistic chance that you would lose.'
Horn's Austrian coach Rainer Schopf was quite emotional moments after she had set a new record.
'At long last, we have achieved what we set out to do. The last few years were not easy as we made some mistakes. Luckily we can learn from it. The most important thing we have learned is the importance of indoor racing for Carina.
'Last year, she did not do so at all. It led to her having quite an average season as a sprinter. In 2015, when she equalled the South African record running 11.06, she also improved her indoor time in the 60 metres to 7.19. Earlier this season she twice improved the South African indoor-record, setting times of 7.10s and 7.09s, and now she ran 11.03 in the 100m.'
Schopf confidently predicts that it is now only a question of time before the Tuks athlete will dip under 11 seconds in the 100m.
In the men's 100m semi-finals, Thando Dlodlo (above, No 490) ran 10.11 to finish second and clip 0.01sec off the old SA junior mark of Gift Leotlela. 'I'm satisfied because I got what we came here for,' Dlodlo said. 'Hopefully, I can break the record in the 200m as well, but I'm happy.'
Dlodlo went on to anchor the SA Junior Invitation Team in the 4x100m Relay final, taking first place in 39.46 to break the national U20 record of 39.59.
In other disciplines, Olympian Stephen Mokoka won an exciting battle in the 10,000m men race, breaking away from Gladwin Mzazi with a thunderous kick to cross the line in 29:34.56.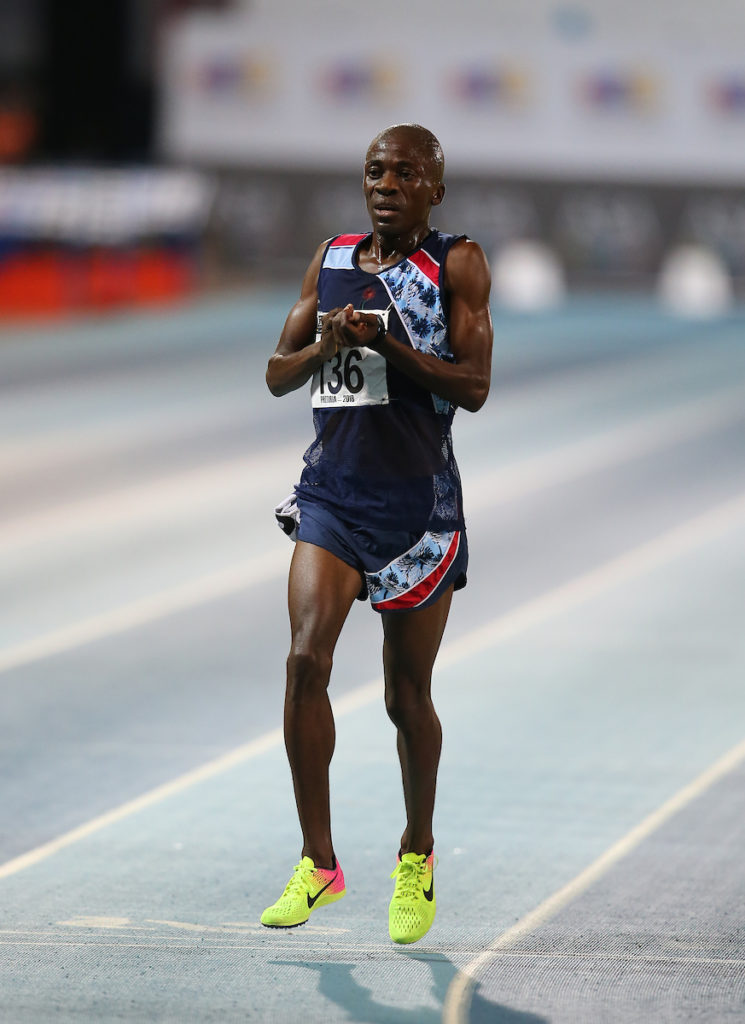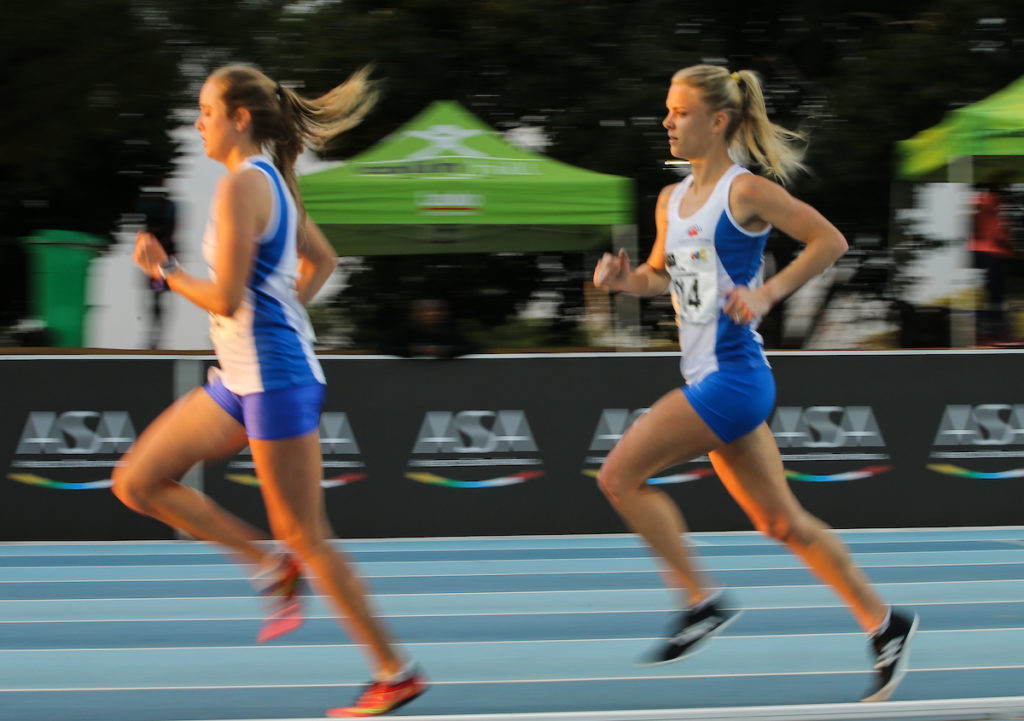 Meanwhile US-based Olympian Dominique Scott produced a kick of her own to win a tactical women's 5000m women's race in 16:55.05.
'Yesterday was a really special day racing the SA national champs in Pretoria. I was very proud to represent Western Province and win my first senior national title in the women's 5000m.
She told Team SA: 'The results show it wasn't a fast race, but I hadn't expected it to be… we were racing at altitude and it was very hot, around 30deg when we raced, and everybody was racing to be on the podium and not for a time.'
'My race plan was to just go out and run as relaxed as possible and with 600m to go, make a move and close hard and see how I could run the last 600m. I executed that plan well… I felt bad running behind Kyla [Van Graan, WP teammate] for the majority of the race, but I was trying to give her some encouragement and letting her know what sort of a gap she had formed ahead of the rest of the field and I think she appreciated me doing that for her.'
'It was lovely to race at home, compete at the national championships, and win my first senior national title.
Van Graan was second in 17:15.70.
Among the highlights in field events, discus throw giant Victor Hogan won gold with a heave of 61.42m, and Lynique Beneke won her sixth national long jump title with a leap of 6.22m.'
Picture of Horn in record-breaking action courtesy of Reg Caldecott and of Dlodlo, Mokoka, Van Graan and Scott courtesy of Roger Sedres/ImageSA