There was more impressive swimming from Team South Africa's 2018 Commonwealth Games team members at the SA National Junior Age Group Championships in Durban on Thursday.
Dune Coetzee (along with Luan Grobbelaar, the youngest member of the SA team, at 15 years of age) kicked off her Commonwealth Games preparation with two gold medals in the 200 butterfly and 200-metre freestyle with times of 2min 15.93sec and 2:03.89 respectively.
Another athlete preparing for the Commonwealth Games was Kaylene Corbett (18), who managed a silver medal in the 50m breaststroke with a time of 33.26, only 0.02 behind Jade Neser (17) in 33.24, while Jarryd Baxter (who turned 19 on Friday), who is also looking to improve his times ahead of the Games swam to his second gold medal of the competition in the 200m freestyle in 1:50.50.
On another action-packed day at the Kings Park Aquatic Centre (see main picture) Ethan du Preez (14) claimed the gold in the 200m butterfly 12-14 category, finishing over seven seconds ahead of the competition in 2:03.04 to Luca Holtzhausen's 2:10.49 and Matthew Sates' 2:10.54, while Ruan Breytenbach (15) won the 15-18 category in 2:04.82 ahead of Karan Raju in 2:07.26 and Bob Fick in 2:09.55.
Sates and Holtzhausen also added the 50m breaststroke silver and bronze in 31.28 and 31.30 and finished the evening finals with bronze and silver in the 200m freestyle in 1:59.20 and 1:58.84, respectively. Du Preez took the gold in the freestyle race in 1:57.91 and Breytenbach walked away with the bronze in his age group's breaststroke in 30.69.
In the boys' U12 100m backstroke, Elijah Dredge, Kian Keylock and Kinnae Lindeque claimed the top three places in 1:08.78, 1:09.69 and 1:09.77, respectively, while the 13-year-old category medal podium comprised of Pieter Coetze (1:02.88), Matthew de Gouveia (1:05.39) and Namibia's Mikah Burger (1:05.71).
Keylock also won the 50m breaststroke race in 34.21 and grabbed the bronze in the 200m freestyle in 2:13.60.
The 14-year-old group 100m backstroke winners were Zander Landman in 1:01.06, Matthew Taylor in 1:02.29 and Corey Webb in 1:02.44, with Giano dos Santos (1:00.85), Ethan Spieker (1:01.07) and Dylan Wright (1:01.30) claiming the silverware in the 15-year-old group section.
Later in the day, Spieker also claimed the 200m freestyle gold in 1:56.12, while Wright won the bronze in 1:59.52.
Henju Duvenhage and Chase Rayment dipped under the one-minute mark to bag the gold and silver in the 16-year-old group category in 57.85 and 59.37, while Andrew Ross walked away with the bronze in 1:00.04. In the final category, the 17-18, Jack Oliver won the gold in 57.99, ahead of Aidan Baines in 59.63 and Namibia's Ronan Wantenaar in 59.71.
Wantenaar went two better winning a gold medal in the 50m breaststroke with a time of 29.85.
In the girls' U12 100m backstroke finals, the gold, silver and bronze went to Chloe Gershuny (1:11.74), Alexandra Eagles (1:12.00) and Ruby Dixon (1:12.01) respectively, while the 13-year-old race was won by Emma Christianson in 1:07.48, followed by Hannah Robertson in 1:09.29 and Zimbabwe's Donata Katai in 1:09.37.
Dixon also claimed the silver medal in the 200m freestyle in 2:18.46
Sune Liebenberg, Hannah Pearse and Jana Botha took the honours in the 14-year-old race in 1:05.54, 1:05.93 and 1:06.37, while the victors in the 15-year-old category were Kerryn Herbst, Olivia Nel and Talia Fos in 1:04.41, 1:05.61 and 1:05.36, respectively.
Liebenberg finished the second day of competition with a bronze in the 200m freestyle in 2:07.99
Megan Tully (1:05.25), Kyla Blackmore (1:06.06) and Connie Pietersen (1:06.33) claimed the gold, silver and bronze in the 16 age group event, while in the 17-18 category, it was Hannah Kiely (1:05.47), Llinde du Plessis (1:06.35) and Taneal Baptiste (1:07.09).
In the 13-year-old group's 50m breaststroke race, Ryan Zasas, Luard Elstadt and Jordan Denyer won the top three places in 31.87, 31.92 and 32.93, while the girls' U12 medals went to Michaela dal Medico, Amy Muller and Isabelle Barrow in 35.80, 36.11 and 36.16, respectively.
Zasas made it two with a gold medal in the 200m freestyle, clocking 2:04.40.
Emma Kuhn (34.87), Dackota Tucker (35.19), Nicole Bougas (35.86) and Savannah Voigt (35.86) won the 13-year-old 50m breaststroke, while Lara van Niekerk (32.48), Aimee Canny (33.05) and Paige Brombacher (33.74) brought home the medals in the 14 years section.
In the 15-year-old group, Tailyn Seyffert touched the wall with a golden 33.47 ahead of Rebecca Meder in 33.81 and Lana Janson in 34.54, while Christin Mundell won the 16-year-old category in 32.69 and ended the night with a gold in the 200m freestyle in 2:04.66.
In the 200m freestyle 13 year old category, Hannah Robertson topped the medal podium in 2:07.43, followed by Chloe le Roux in 2:09.01 and Veronique Rossouw in 2:09.37, while Abi Meder won the 17-18 race in 2:06.52 to Jenna Pearse's 2:07.01 and Marine Nortjie's 2:07.78.
The championships continue on Friday with heats starting at 8.30am and finals at 5pm.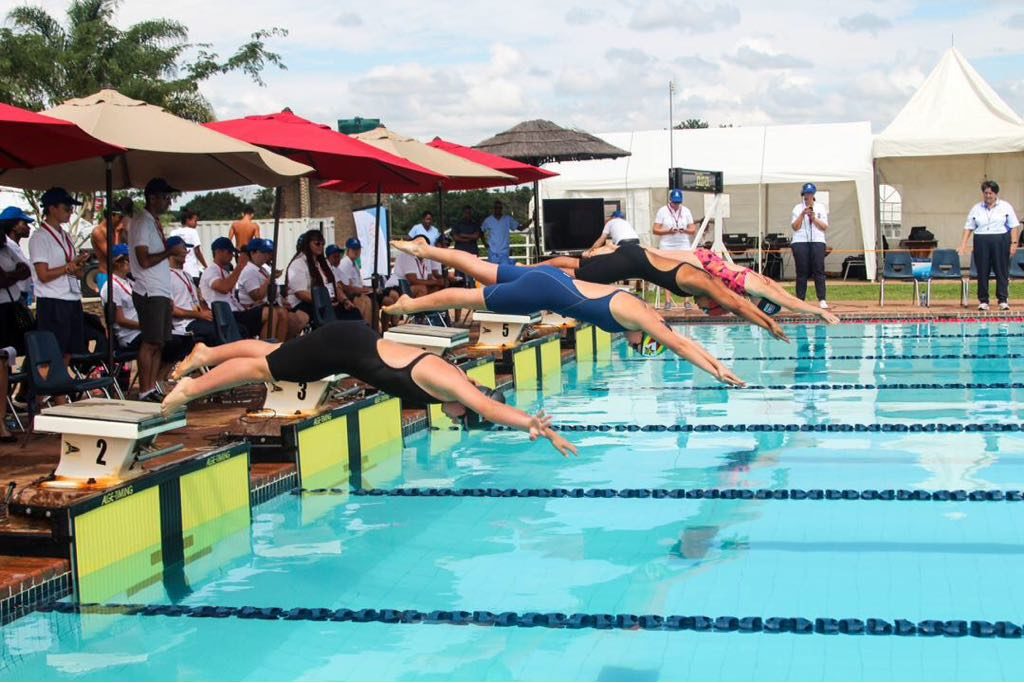 Meanwhile, in Malawi, the SA swimming team is flying the flag high after adding 15 more medals (seven gold, four silver and four bronze) to their tally during the second day of the CANA Zone IV Junior Swimming Championships.
Keagon Mnyaka (14) and Faiyaz Adams (14) led the charge in the 200m breaststroke, walking away with the gold and silver in 2:37.24 and 2:37.51, respectively, while the bronze medal went to Namibia's Maximilian Betts in 2:42.42.
Mnyaka also scooped the gold in the 50m butterfly in 27.35, while Adams added a bronze medal in the 50m backstroke in 29.30.
Fifteen-year-old Ashton Volkwyn was victorious in her respective 200m breaststroke final, winning her second gold of the competition with a time of 2:50.47 ahead of Namibia's Ju-Ane Oberholzer (2:59.22) and Swaziland's Nadia Volschank (3:02.58).
JP Seyffert (16) continued his fine form, bagging four more medals, this time three gold medals in the 200m breaststroke, 50m backstroke and 50m butterfly as well as a bronze in the 200m freestyle in 2:20.36, 28.33, 27.05 and 1:58.81, respectively.
Lize-Marie Davidson (2:12.03) and Hanna Cromhout (2:16.32) added the silver and bronze to their tally in the 13-14 age group 200m freestyle race, while Chenay Date Line walked away with the silver in both the 15-16 age group 200m freestyle and 50m butterfly in 2:17.66 and 32.41.
Cromhout also finished with the bronze in the 50m butterfly, clocking 31.92.
Cromhout then teamed up with Davidson, Danielle Ontong and Candice Clifton-Smith to conclude the day with a gold medal in the 4x100m freestyle relay in 4:18.47.
Friday's morning session starts at 9am, with the afternoon session beginning at 2pm.