SEARCH
Wounded Blitzboks win twice in Las Vegas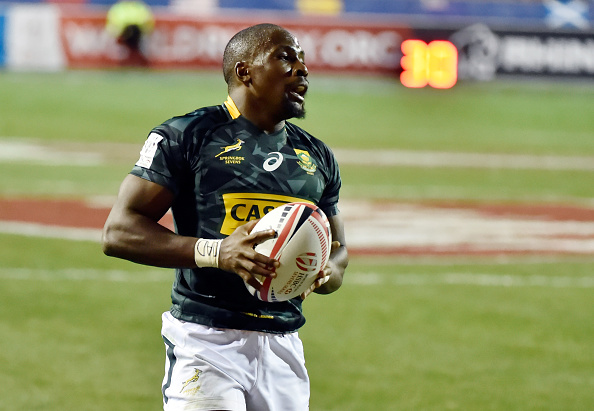 By Mark Etheridge
A battered and bruised Blitzboks side have managed to win both their Pool B games at the Las Vegas leg of the HSBC Sevens Series in the United States.
After overcoming a tough Welsh side 26-21 in their first match of the tournament, they took on Canada in their second and final game of the opening day.
And it was the Blitzboks who were first on the board within the first minute with a super try by Shakes Soyizwapi, the Dale College product running over virtually untouched after a lovely inside pass from Dylan Sage down the left flank.
A successful conversion saw the score 7-0 to the Neil Powell-coached outfit.
Just before the midway mark it was veteran playmaker Cecil Africa who doubled the try tally after a quick tap penalty as he but back sharply inside to go over next to the posts. Another conversion saw the score at 14-0 before the Canadians struck back after the hooter with Tevaughn Campbell going over untouched after the North Americans had numbers out wide to the right.
There was an early scare for the Blitzboks as big John Moonlight (coincidentally under a full Las Vegas moon!) broke through two Blitzbok tackles to bring them back to within two points after the conversion.
Shortly afterwards there were more concerns for the South Africans as Kyle Brown limped off with what looked like a right ankle injury. Not the best news with the Blitzboks already depleted for this tournament.
With just over four minutes, Sage turned try-provider into try-scorer as he pinned his ears back and dived over in the left hand corner after a diagonal run.
That made it 19-12 and a series of penalties in their favour and the breakdown saw the Blitzboks safely negotiate their way to the final whistle for the victory.
Biggest concern for the Blitzboks as they prepare for their final pool game against England just after midnight Saturday (SA time) is who will be fit to play with Werner Kok out for the tournament after a jaw injury against Wales and then Brown's scare.
Picture of Soyizwapi in action courtesy of David Becker/Getty Images