SEARCH
Scott wraps up season and shares tips with the future stars
Updated: October 15, 2017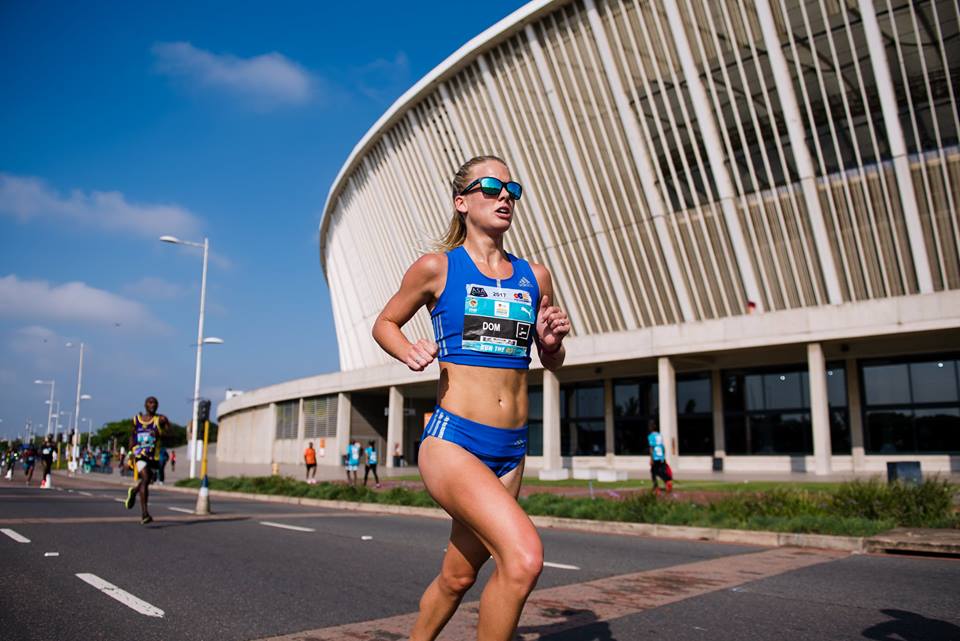 By Mark Etheridge
Fresh from her fifth-placed finish at the FNB Durban 10k CITYSURFRUN road race, South Africa's Dominique Scott spent time last week putting something back into the sport.
Scott, 25, clocked 33min 26sec as teenaged winner Mercyline Chelangat of Uganda won in 31:37.
The KwaZulu-Natal outing saw Scott putting the seal on a long (and often stressful) season on the international circuits.
The Rio Olympian's now putting her feet up at home in Cape Town before heading back to her United States base on Thursday.
Wednesday saw her putting in an appearance at the Endurocad Academy, overseen by multiple Olympian Elana Meyer.
'I've been kept very busy here… but that's the way I like it,' she told Team SA. 'The afternoon in Stellenbosch was with Endurocad and adidas SA.'
'There were 40 kids from all over the Boland and Western Province region.
'I gave them an hour of warm-up and drills and a strengthening workout to try and teach them some tricks that I've learnt during my career.
'After this workout session… i shared my story with the kids and did a question and answer session and we then had dinner.
'It was so awesome to share my story with these young South African athletes and to try and inspire them to create and chase their own dreams.'
As for the race itself Scott said said in her opinion one needs three things to have a fast race.
'First is good competition which organisers had, they flew in athletes from all over the world, mainly from the east African nations like Kenya and Uganda.
'The second thing is a good course and their first course was mapped out great.
'The third thing is good weather. We work up and it was a beautiful day, pretty hot with a bit of the usual Durban humidity. But the wind picked up around 7am just as the athletes were warming up and it didn't really die down.'
Going into the race and Scott had been in her usually positive state of mind. 'I felt really good. My legs were fresh and ready to go. I'd taken a few days off to taper so my body wasn't tired and I'd had got over the jet leg after travelling across from the states.
There had been talk that Meyer's national record may just be under threat from the talented blonde but to her credit Scott knew just what that would take.
'The gun went off and the girls went off exceptionally hard. I decided to catch up them a bit slower so after around 500m I'd made up and was running in the lead pack, there were about six girls at this stage.
'At the 2km mark the time was just past 6min 02sec and I knew that pace was way too fast for me so decided to drop off the front pack's pace and rather run my own race and control my own pace and rhythm and hope the girls would come back to me.'
But on the day it didn't work out that way. 'I was left running myself for the majority of the race with just a few guys for company but I still had such a great time. And I'm proud of my 33:26 in such a great field of women's athletes.
'And of course it was great to be racing in Durban, in my home country and awesome to have my parents alongside the route, cheering for me. It was a really great race and I'm hoping to fit into my schedule in coming years.'
Main picture of Scott in action in Durban courtesy of Roy Esterhuysen